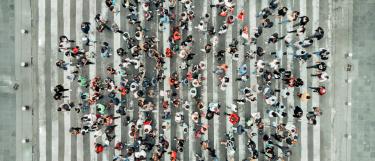 SPACES AND DYNAMICS IN IBERO-AMERICA is the framing topic of the HCIAS' transversal research program, which combines perspectives from the Social Sciences, Humanities, Cultural Studies, Behavioral Studies, and Environmental Studies. The HCIAS incorporates these converging perspectives into our academic programs in interdisciplinary Ibero-American studies.
Our MASTER'S PROGRAM focuses on the social dimensions of communication in the political, economic, and cultural spheres of the Ibero-American macro-region. HCIAS students reflect on critical questions such as: How does media shape public opinion in Ibero-America? What and who affect migration patterns in the Americas? How can indigenous languages in Latin America be preserved?
For young scholars, the HCIAS is establishing a program for doctoral training and is setting up an interdisciplinary DOCTORAL RESEARCH GROUP that addresses grand challenges affecting Ibero-American societies, paying special attention to thereto-related phenomena and the dynamics of communication.

Master's Program 'Communication and Society in Ibero-America'
The interdisciplinary master's program Communication and Society in Ibero-America demonstrates what role communication plays in Ibero-American societies. With specialized knowledge stemming from a multitude of disciplines from the humanities to the social sciences, students develop a holistic understanding of Ibero-America.

HCIAS Doctoral Training
As a central research institution of Heidelberg University, the HCIAS provides a sustainable institutional framework for pursuing a doctorate in interdisciplinary Ibero-American Studies. In this context, the HCIAS is establishing a structured doctoral program and is setting up the doctoral research group Communication and Society in Ibero-America.